On Labor Day weekend, a new kind of dispensary opened its doors to the affluent alpine community of Aspen, Colorado. Following the lead of a handful of elevated pot shops popping up in gilded zip codes nationwide, Dalwhinnie Farms employs luxury retail design and carefully curated products to attract a well-heeled audience still hesitant to see what all the hype is about.
"We really strove to create something completely different," said Chief Revenue Officer Ashley Grace, who before joining the Dalwhinnie team was chief marketing officer at hemp heavyweight Charlotte's Web.
Named after the 210-acre dressage horse-training ranch in Ridgway, Colorado, that now houses the cultivation facility supplying the dispensary, Dalwhinnie takes its aesthetic lead from western equestrian heritage. From the store's rustic bucolic chic to the timeless rancher imagery adorning the walls and windows, horses and the idyllic rural life built around them inform every detail of the space, which was designed in collaboration with Terra Rosa Design Labs.
As the tenth dispensary in a tiny town of 7,000 residents, Dalwhinnie needed to step in with something novel. Aspen is one of the most affluent municipalities in the country, with a reported median home price of $5.4 million. To stand out, Dalwhinnie Farms targets the same customers who peruse the shelves of the nearby Gucci and Prada stores. Grace saw a major opening for a brand to improve the cannabis retail experience while delivering exceptional products.
"We're trying to give the customer a product of connoisseur quality in a different kind of retail experience than your typical dispensary in Aspen," he said. "We want to step outside the typical dispensary experience that everybody's familiar with and, by doing so, broaden the clientele base and help to normalize cannabis usage as a part of everyday life.
"When it comes to design, our objective is to lead with classic retail and have the dispensary be secondary to the experience," said Grace.
From the outside, the inviting-yet-inconspicuous storefront with its brass door handles and signature doormat looks like it could sell anything—$8,000 handbags, designer skiwear, or gourmet cheese and meats. The wooden floors resemble a barn's hayloft, chosen to both ground the space in the brand's roots and appear unfussed by wet ski boots.
Around the store, elegant branded merchandise like crystal pipes and cut-glass whisky sets (a curious decision given the dispensary shares its name with a Scottish distillery that has been in operation almost as long as Aspen has existed) and pricey accessories are immaculately exhibited, presented in white marble displays and showcased in glass cabinets. Grace said the pieces soon will be available online, where the pipes already are a huge hit.
The walls showcase an assortment of picturesque shots from the brand's launch campaign; the images do the legwork of directly connecting Dalwhinnie to the majestic source of its flower. In a revealing collision of the dispensary's timeless contemporary chic and the area's history, the space has both an imposing taxidermied buffalo head mounted on the wall and a standalone golden horse statue, which Grace explained is for selfies.
The space also is blessed with a skylight that allows abundant fresh sunlight to pour in throughout the day. "It adds that warmth and openness to the feel of Dalwhinnie that a lot of other dispensaries don't have the opportunity to deliver," Grace said. He added Dalwhinnie's public bathroom is a novel departure from the standard dispensary and would "fit right into the St. Regis, or maybe even somewhere nicer than that."
While the store's accessories and secondary items certainly earn Dalwhinnie its luxury credentials, the cannabis is priced competitively. The curated menu features a mixture of house brands (Dalwhinnie Farms and Shift Genuine Cannabis, the state's second-best-selling bulk flower, which was acquired by Dalwhinnie in October) and staples like Mr Moxey's Mints, Coda Signature chocolate, and Mary's Medicinals wellness products.
Grace pointed to the Dalwhinnie Farms joint packs as a major early seller. "We have a pack of seven half-gram joints in a hard, magnetically sealed case," he said. "Everybody we show this packaging to just holds it and starts clicking the magnet back and forth. I love to see this kind of experiential dimension with the product emerge."
Regardless of the alluring packaging, Grace and the team know what's paramount for the brand. "We're flower people," he said. "It's what we're known for and what people love about Dalwhinnie Farms," adding the early runaway success of the pre-rolls is pushing the company to expand joint-rolling production and explore other Colorado markets.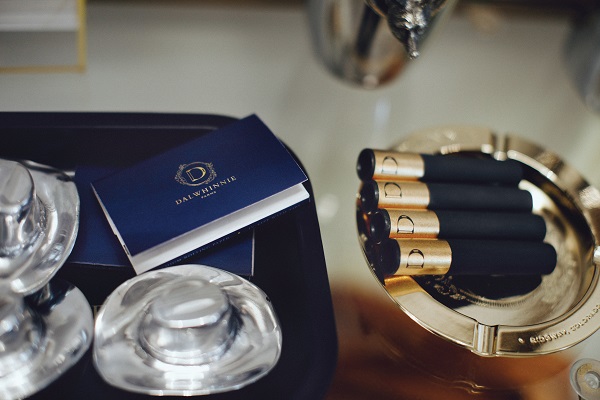 While intentional design and product curation are fundamental considerations for opening new markets averse to the danker end of cannabis retail, staffing and customer education also are important. Given how small the hiring market is for jobs in Aspen and the surrounding areas, Grace admitted staffing always will be a hurdle for a store with Dalwhinnie's ambition.
"We're very focused on trying to get the right mix of folks who complement each other," he said. "Some folks are more comfortable with flower, some are more comfortable with extracts, some are more comfortable with edibles or CBD. We're trying to provide a diverse understanding of the product.
"We have accepted we can't have experts who know every single thing right out of the gate," he added. "We're trying to be thoughtful and pick people who complement each other and build a strong team that is always focused on giving impeccable service."
For Grace himself, the transition into luxury cannabis retail from his former position at Charlotte's Web represents an exciting progression that takes him into a staunchly localized business with national ambitions. "I couldn't be more excited about this project," he said. "My expectation is we will be successful here, and we will have demand for out-of-state licenses to grow the brand across the country in the right markets. If and when federal legalization happens, we will be in a very interesting position from a national branding perspective, given Aspen is a tourist market and frequented by people from New York, [Los Angeles], San Francisco, Dallas, Houston, and Chicago.
"From my standpoint," he concluded, "this is a localized effort, but it's very, very targeted and very, very niche with a lot of upside."
Dalwhinnie's rustic, pastoral allure is certain to hit all the right notes with the wealthy class, many of whom, amid the pandemic, are rethinking their abodes in dense coastal locales in favor of the remote life. As the brand plots a strategic national expansion into markets that have an ample audience for upmarket stores, it's likely the tranquil, verdant expanses of Colorado's San Juan Mountains will speak clearly to those looking to snuggle under an elk pelt, throw another log on the fire, and spark one up under the stars.